ALUMNI NEWS FROM CHARTED COURSE
ALUMNI IN MEMORIAM
Jerrold H. Schirpke '52
March 31, 2022, Marshfield, WI
Marlene A. (Eisner '55) Hoffman
April 23, 2022, Marshfield, WI
James H. Wiskerchen Sr. '55
May 26, 2022, Wisconsin Rapids, WI
Eugene J. Zygarlicke '55
March 25, 2022, Marshfield, WI
David C. Johnson '56
January 12, 2022, Stratford, WI
David B. Schlagenhaft '56
June 23, 2022, Marshfield, WI
Alvin J. Wellner '57
May 22, 2022, Marshfield, WI
Susan (Ledden '57) Willfahrt
April 22, 2022, Neenah, WI
Judae (Cliver '58) Scheibe
April 28, 2022, Hewitt, WI
Charlene (Bletsoe '59) Karau
December 12, 2017, Franklin, WI
Mona (Seufzer '59) Truhlar
December 27, 2019, Mattoon, IL
Richard L. "Dick" Bell '60
November 7, 2018, Eau Claire, WI
James C. Schmutzer '63
January 6, 2021, Wisconsin Rapids, WI
Eugene "Gene" Spindler '63
February 3, 2022, Waunakee, WI

Carol (Johnson '63) Treu
April 4, 2018, Alma, WI
Catherine (Eberhardy '64) Bonkoski
December 2, 2020, Altoona, WI
Gerald C. Loos '65
October 1, 2021, Wisconsin Rapids, WI
Michael John Marx '65
April 1, 2022, Monroe, WI
Gerald J. Werner '65
April 11, 2022, Marshfield, WI
Dennis E. Fleisner '67
July 24, 2021, Little Chute, WI
Ralph W. Lang '67
February 16, 2022, Marshfield, WI
Bethany (Schindhelm '69) Voelker
January 12, 2022, Woodbury, MN
James F. Kronberger '70
January 30, 2022, Marshfield, WI
Colleen (Kipp '71) Dresser
January 9, 2022, Vinton, VA
Bernard Joseph Nikolai '81
March 12, 2022, Statesville, NC
William Paul Neis - Former Principal
Passed away February 25, 2022
Fr. Neis was Principal from '83 to '92
IN REMEMBRANCE
Please help us to remember two alumni who unexpectedly passed away recently. Both were true CCS supporters and will be sadly missed.
RON MAURER '61 passed away March 17, 2022. He was a Navy Veteran and worked at Maurer Roofing before retiring.
ELIZABETH (BALTUS '70) BERTRAM passed June 3, 2022. She worked at Baltus Oil Co., and later as a CNA.
ALUMNI NEWS
Rowan, daughter of Kevyn (Bauman '07) Gumieny rocks her Columbus onesie!
CCHS Math Teacher Ruth Fleischmann invited Meg (Seelen '02) Matenaer to speak about her book "Write In Time" at the Spencer Book Club in May.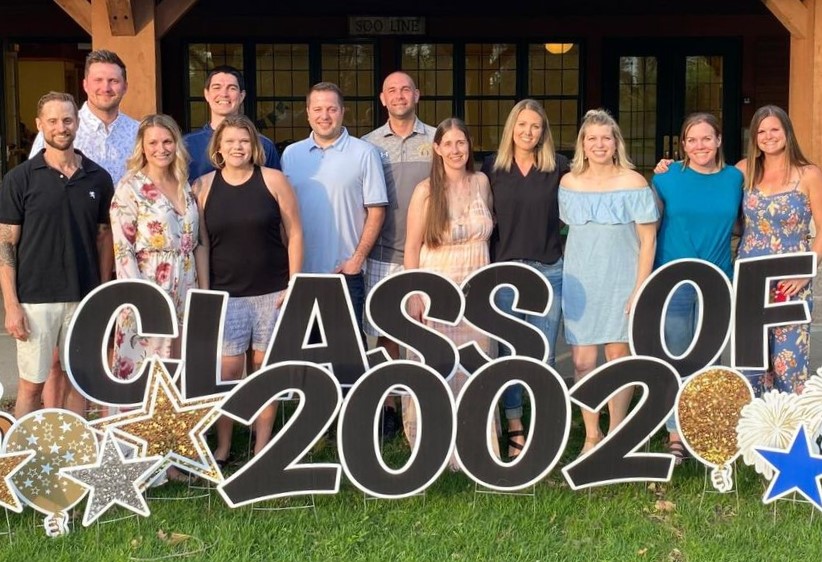 The Class of 2002 gathered for their reunion on May 14, 2022 at Wildwood Park.
NEWS FROM OUR FEBRUARY 2022 CHARTED COURSE
ALUMNI NEWS

CLASS OF 1961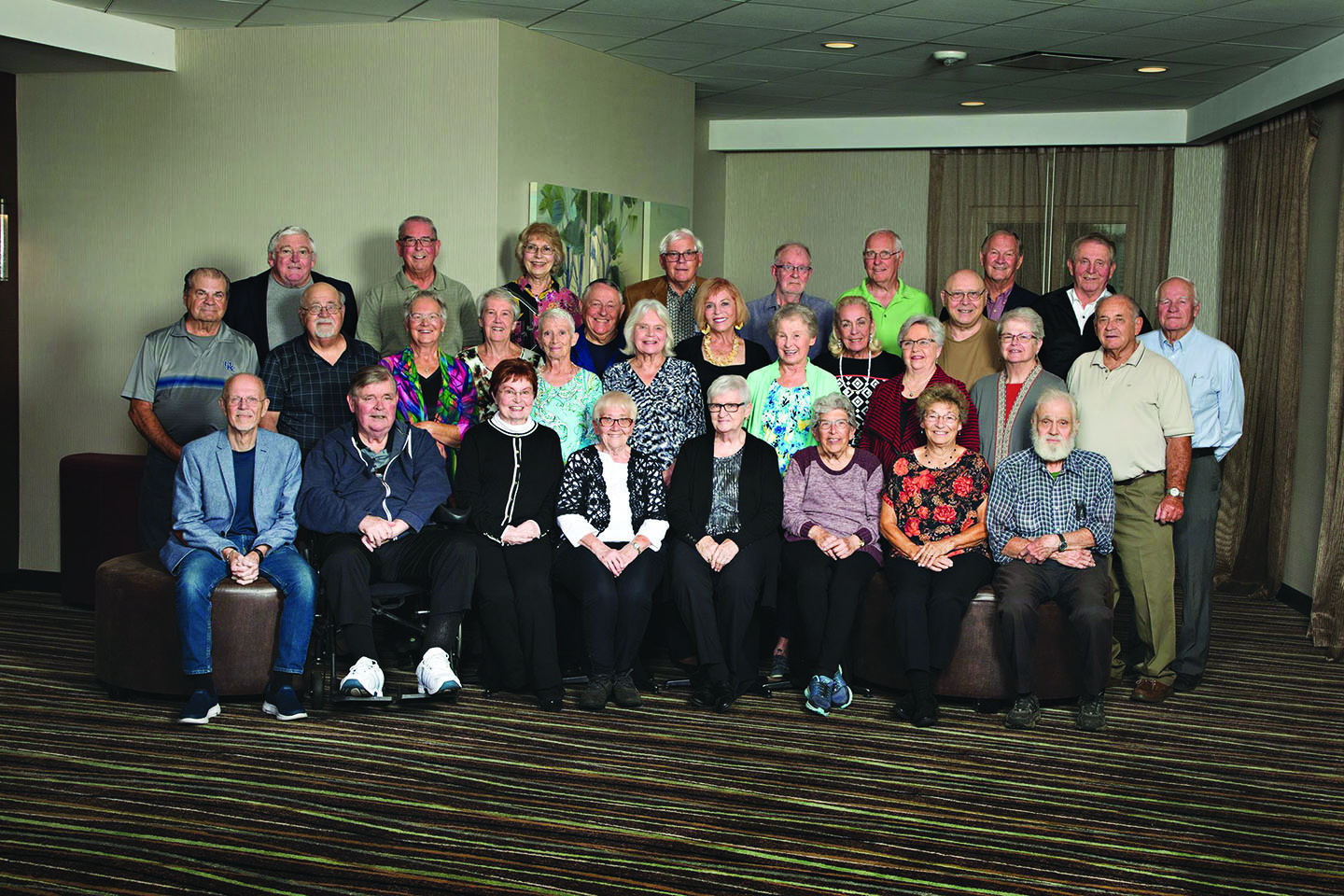 On October 2, 2021 the CHS Class of 1961 held its reunion at Hotel Marshfield! (Photo by Paul Tishim Photographic Artist.)
CLASS OF 1981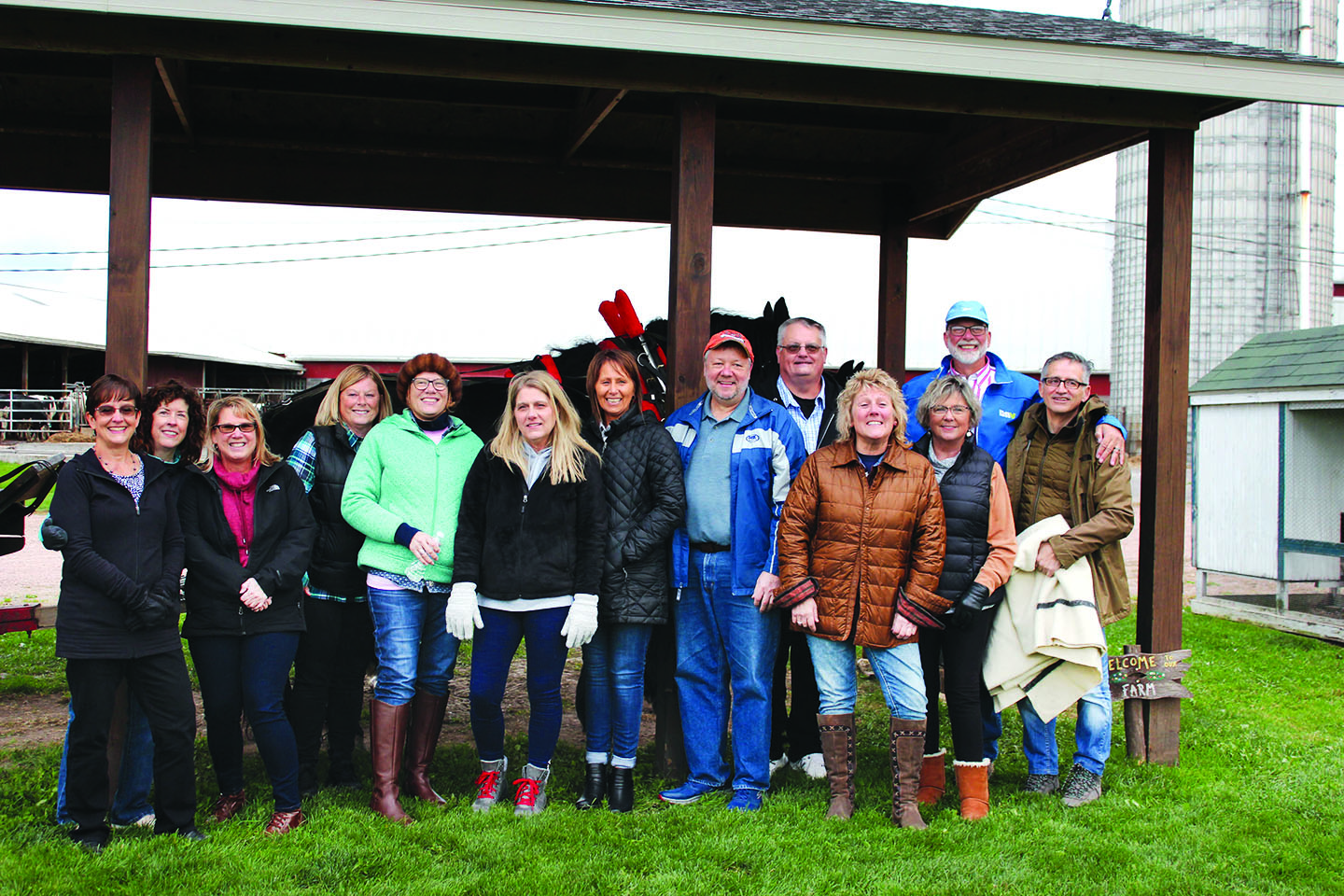 On October 15-16, 2021 the CHS Class of 1981 had its 40th Class Reunion at Seehafer Farms, Rose Bowl Lanes and the Eagles Club.
CLASS OF 2003
Erin Hanlin '03 and her spouse David Mercer recently had their first child, Euan Richard Mercer. Erin also recently started a new job as an Assistant Professor of Emergency Medicine at Duke University School of Medicine in Durham NC.
CLASS OF 2017
Kendra Baierl '17 helped to lead her UW-Eau Claire Volleyball team to win the NCAA Division III
Women's Volleyball National Championship in St. Louis last November.
CLASS OF 2021
In January 2021 Ashley Herman '21 was diagnosed with Hodgkin's Lymphoma during her senior year. Last year her design for the Green Bay Packers "My Cause, My Cleats" program was selected by Aaron Jones! On December 12, 2021 Jones wore the cleats she designed during the Sunday night game with the Chicago Bears, with Ashley and her family cheering in the stands! Visit our website to read more about "My Cause, My Cleats," watch videos by Northwestern Mutual Foundation, and read a thank you message from Ashley. Pictured here is Ashley with her mom Rebecca, who is a fourth-grade teacher for Our Lady of Peace Intermediate School. CLICK HERE FOR MORE INFORMATION
ALUMNI IN MEMORIAM
Joan Mary (Schuh '52) Randall, October 13, 2021, Sheboygan, WI
Sarah A. (Wilcott '54) Biechler, October 12, 2021, Surprise, AZ
Darlene Y. (Ledger '54) Pipkorn, November 20, 2021, Colby, WI
Gerald "Jerry" E. Eckhart '57, February 1, 2021, Sussex, WI
Richard J. "Dick" Thomer '59, January 1, 2022, Marshfield, WI
Suzanne Marie (Graff '60) Burt, December 12, 2021, Marshfield, WI
Beverly Rose (Werner '60) Stimac, Dec. 25, 2021, Wisconsin Rapids, WI
Sandra A. Eckes '61, November 5, 2021, Stratford, WI
Vivian Shirley Feenstra '63, August 19, 2021, Hastings, MI
James R. Weister '63, November 7, 2021, Marshfield, WI
Kenneth J. Folz '65, November 1, 2021, Rozellville, WI
Dr. Irvin A. Drach II '66, December 15, 2021, Loyal, WI
Barbara Ann (Schultz '68) Kane, September 22, 2021, Tucson, AZ
Lawrence "Butch" Werner '68, October 21, 2021, Fitchburg, WI
Mary Ann (Buchanan '69) Fischer, November 13, 2021, Arpin, WI
Mary M. (McHugh '73) Neff, October 24, 2021, Lake Mills, WI
Mike G. LeGrand '75, December 4, 2021, Marshfield, WI
Patricia A. (Rebone '79) Pokallus, December 22, 2021, Marshfield, WI
Kathleen Marie (Stone '10) Sullivan, November 30, 2021, Marshfield, WI
FROM OUR NOVEMBER 2021 CHARTED COURSE ISSUE
ALUMNI NEWS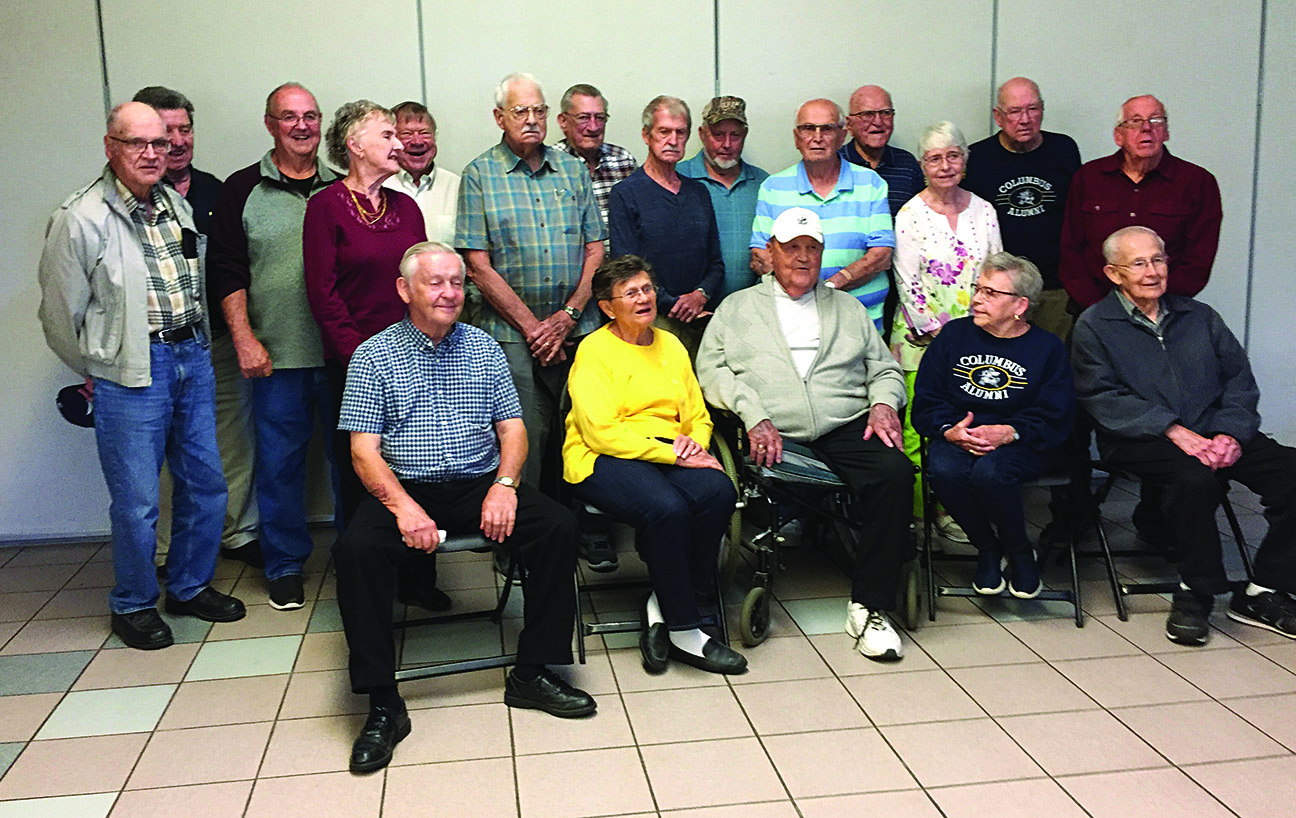 CLASS OF 1956
On September 23, 2021 the Class of 1956 celebrated its 65th Class Reunion at Wildwood Park with 19 classmates attending (out of 56 living members). They even had classmates travel from as far as the Twin Cities and Arizona to participate!
CLASS OF 1970
On September 11, 2021 the Class of 1970 gathered at the Marshfield American Legion to celebrate 50 years! There was also a golf outing; and at dinner there were approximately 80 people in attendance (including partners).
CLASS OF 2001
On July 17, 2021 the Class of 2001 held its 20th Class Reunion at Wildwood Park. They are planning a 25 year reunion for the summer of 2026!
CLASS OF 2011
On May 13, 2021, Christopher Lamermayer graduated from the Air Force's Non-Commissioned Officer Academy and was awarded Distinguished Graduate. He is stationed at Joint Base Pearl Harbor Hickam Hawaii, and lives in Honolulu with his wife Tsugumi.
CLASS OF 2014 - KNOECK / BAIERL WEDDING
On April 24, 2021, Megan Knoeck and Alex Baierl, both from the Class of 2014, tied the knot... and the wedding was like a "Dons Reunion!" Pictured here are alumni spanning from 2014 back to the 1950's. The couple now resides in Chippewa Falls, WI. Congratulations!
ALUMNI IN MEMORIAM
James Hederer '53, May 23, 2021, Marshfield, WI
Patricia (Maurer '53) Quelle, June 1, 2021, Marshfield, WI
Ronald T. Wampler '53, July 27, 2021, Eau Claire, WI
Ronald J. Weinfurtner '53, July 6, 2021, Marshfield, WI
Thora J. (Schlagenhaft '54) Loescher, August 9, 2021, Pewaukee, WI
Joanne R. (Gowey '56) Desotelle, June 19, 2021, Altoona, WI
William F. Zygarlicke '57, July 3, 2021, Marshfield, WI
Jerome "Jerry" W. Maurer '58, July 16, 2021, Oshkosh, WI
Sharon A. (Blaisdell '59) Morrill, September 23, 2021, Marshfield, WI
Barbara A. (Eckes '62) Scheibe, July 14, 2021, Marshfield, WI
Michael A. Theurer '65, September 1, 2021, Marshfield, WI
Jacqueline E. (Huth '66) Bushman, September 6, 2021, Marshfield, WI
Kenneth Cyril Scheuer '68, July 26, 2021, Harlingen, TX
MSgt (ret) Raymond G. Scheuer '70, July 24, 2021, San Benito, TX
Roger Lee Von Holzen '71, August 9, 2021, Maryville, MO
Joann T. (Binder '71) Weiler, July 29, 2021, Wisconsin Rapids, WI
Jean Marie (Guden '78) Joseph, June 8, 2021, Greeley, CO
Pamela S. (Haupt '83) Russell, August 11, 2021, Marshfield, WI