January 27, 2022
COLUMBUS STUDENTS ARE "PART OF THE FAMILY"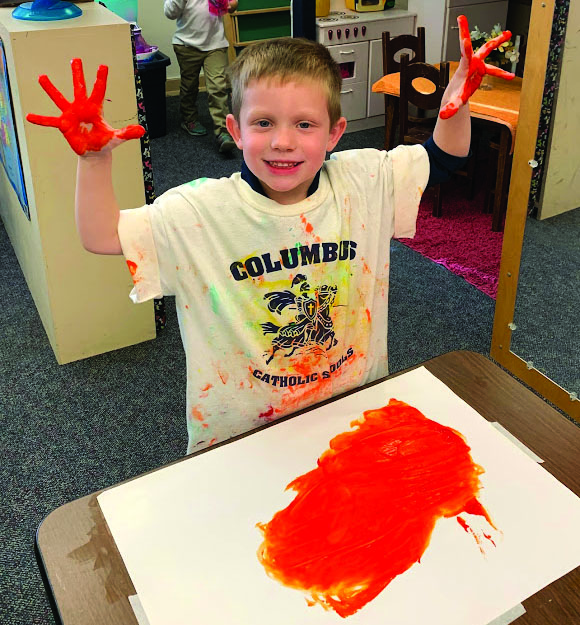 By Jennifer Brock, Kindergarten Teacher at St. John the Baptist Primary School
Editor's Note: Columbus Catholic Schools offers half-day and full-day 3- and 4-year-old preschool programs; and full day 4k and 5k classes!
"It feels like home to me." There are things about your childhood you hold onto, because they were so much a part of you. I don't have a childhood memory that doesn't have Columbus Catholic School in it. My mother was a teacher at OLP. At age 4, I would call Our Lady of Peace because I missed my mom, Sister Mary Wutkowski, who caught on quickly, looked forward to my call. I had chickenpox on the first day of first grade. My favorite teacher was my 4th grade teacher and I was excited when she became my 6th, 7th, and 8th grade teacher. I played basketball and volleyball as an OLP Giant. I was part of the 1991 Columbus Volleyball team winning the state championship and was honored to be the homecoming queen my senior year of high school. My parents, mother-in-law, husband, daughters, soon my granddaughter and I will have walked the halls of Columbus Catholic Schools.
I have been teaching at Columbus Catholic Schools for 24 years. Many things have changed over the years but one thing will always remain the same….we are a Columbus family.
Our schools strive to give each child the best tools to be successful in life and create good people. Our schools are safe learning environments building a strong sense of community.
Our kindergarten program builds a strong educational foundation. We instill an early love for learning. We witness children blossom into well-rounded students excited to learn.
Our small class size allows each child to get individualized attention from each teacher. We focus on the whole child and develop close relationships with our students.
This statement holds true, no matter how old you are, "All I really need to know I learned in kindergarten. Share. Play fair. Put things back where you found them. Clean up your own mess. Don't take things that aren't yours. Say you're sorry when you hurt somebody. Learn, think, draw, paint, sing, dance, play, and work everyday. When you go out into the world, watch for traffic, hold hands, and stick together." (Robert Fulghum 1986)
Photo Caption: Mason Umlauft, a kindergartener at St. John the Baptist Primary School, demonstrates his finger painting skills recently in Mrs. Brock's class.