10th ANNUAL 2023 Sand Spikers Volleyball Camp

Boys and Girls | Grades 1-9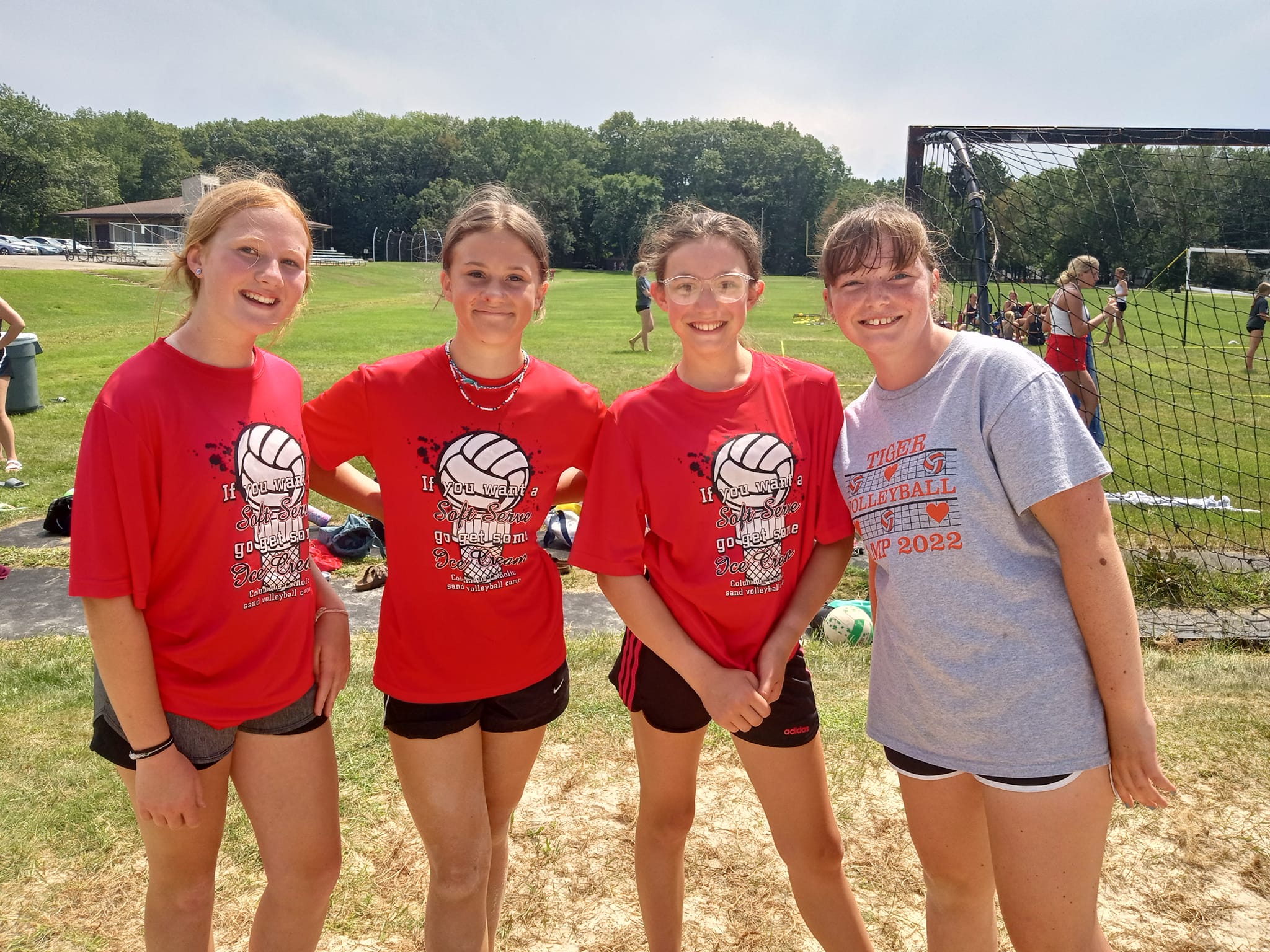 AT A GLANCE:
Location: Columbus Catholic High School Sand Volleyball Courts
Dates: July 31-Aug. 1- 2, 2023
Program: The camp is 3 days long with 3 different time sessions. Please sign your child up for the grade that he or she will be entering next fall.
Sessions:

Boys and Girls Grades 1-2-3: 9-10 am
Boys and Girls Grades 4-5-6: 10-11:30 am
Girls and Boys Grades 7-8-9: 12:30-2:15pm

Program Fee: The cost is $35. All sessions include a t-shirt, prizes and treats! Or $65 for 2 children or $90 for 3 or more children in the same family.
Registration: Register by July 7 (for –shirt) Go online https://forms.gle/DC6YwrSHgzoFNWMX6
WHERE:
The camp will take place outside on the sand volleyball courts at Columbus High School. There is plenty of parking behind Our Lady of Peace church or the high school parking lot.
WHEN:
July 31, Aug. 1, Aug. 2 (Mon, Tues, Wed.)
All sessions will encourage fun while teaching skills at the appropriate age levels.
Session 1 is for coed entering grades 1, 2 or 3 and will run from 9:00-10:00 am
Session 2 is for coed entering grades 4, 5, or 6 and will run from 10:00-11:30 am
Session 3 for girls and boys entering grades 7, 8, 9 and will run from 12:30 until 2:15.

WHAT TO BRING:
Sunscreen (Please have this applied before camp.)
Water bottle
(Optional) baseball cap or sunglasses
Excitement
IN CASE OF RAIN:
We will play unless there is lightning or it is too uncomfortable for the kids. We will move the session indoors or look into a make-up date.
MISSION:
Our mission for Columbus volleyball is to offer the youth in our area a chance to work on volleyball skills. We will work on the fundaments of the game while providing a safe and fun environment. All areas of skills are welcome and we hope to teach kids to love the game of volleyball.
PROGRAM STAFF:
Kat Egle has just finished her 10th season as head coach at Columbus high school. The team was regional champions in 2021, 2020, 2019, 2017 and 2016. The team won conference for the 6th straight year ('17, '18, '19, '20, '21.) She has a total of 18 years coaching experience through school, clubs, and camps with ages ranging from 5 years to 18 years. She is also a mother of 7 children. Kat believes in setting fundamentals and interest for volleyball at a young age to achieve higher performance when they are older.

The Columbus Catholic High School volleyball team and coaches will be volunteering their time to help the kids improve their skills during the camp. The staff will bring in positive energy and assist in drills and games during the camp.
Kat Egle
Head Girls Volleyball Coach
Columbus Catholic High School
cchsdonsvolleyball@gmail.com

Conference Champions
2022, 2021, 2020, 2019, 2018, 2017

Regional Champions
2021, 2020, 2019, 2017, 2016

Sectional Runner up
2021

All-Academic
2021, 2020, 2019

All-State Players
Dorci Walker (3X), Emmalee Jicinsky (2X), Courtney Sommer(2X)

Player of the Year
Courtney Sommer, Dorci Walker (2X), Brooke Neider

D3 All-American & National Champion
Kendra Baierl

All-Conference Honors
Jenna Kibbel (3), Courtney Sommer (2), Aaliyah Krenn, Izzy Hoglund (2), Lily Stratman (2), Gracie Wilczek, Dorci Walker (3), Emmalee Jicinsky (2), Meghan Kibbel (2), Kelsey Moore, Jess Jakopin (3), Sydney Litwaitis, Brooke Neider (2), Maren Seefluth (2), Annie Baierl (2), Kate Turchi (2), Kendra Baierl (3), CC Litwaitis (3), Jennifer Reigel (2), Celine Scholin (2), Natalie Pospyhalla, Maddie DeSmet, Tara Brock, and Hannah Kruse (2).