Welcome to our school's FACTS SIS (Student Information System). Family Portal features are available to parents and students who have FACTS login credentials.
Follow these steps to login with your computer:
From our website, locate the "Parent Login" button in the top right corner.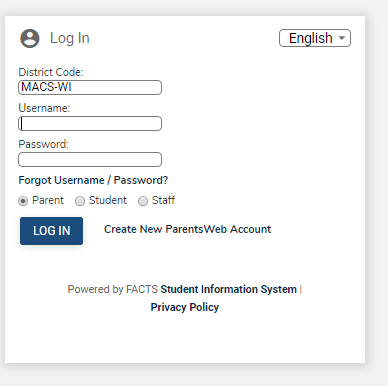 From here you can:
Login in with your "Username" and "Password" (if you already set them up)
"Create New ParentsWeb Account" – see additional instructions below
Get help if you "Forgot Username/Password?"

Instructions for Creating a New Family Portal Account
Make sure Parent is selected and click on Create a New Family Portal Account.
Enter MACS-WI into the District Code field.
Enter in the Email field your email address.
Click the Create Account button.
You will receive an email from FACTS SIS Customer Support containing a link that will allow you to create your username and password. For security purposes the link will remain active for 6 hours.
Please click on the link. A Change/Create Password screen will open. You may use the default username provided, or create a new username. Then type in your desired password into the Password field and Confirm Field.
Click on the Save Username and/or Password button.
Close the window.
Log into Family Online as instructed above.

Follow these steps to login with your phone:
The first time you click on a button that is tied to our FACTS SIS - like Gradebook, Directory, or Homework - you'll be prompted to log in with your FACTS credentials.
Open the FACTS Family App

If you do not have the app, click HERE

Click on a Family Portal feature (e.g.: Gradebook, Attendance, or Homework).
This window will open: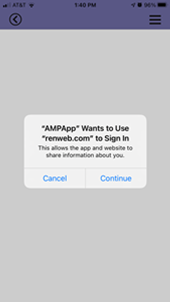 Click Continue.
This window will open: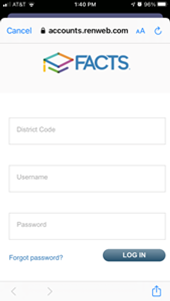 Enter your FACTS login credentials (district code, username, and password) and click Login.

The District Code is MACS-WI

The feature will open.
The app keeps parents and students logged in to all Family Portal features for 30 days. After 30 days of inactivity, login credentials have to be entered again.